---

FOR SALE
• Stallions
• Mares
• Geldings
• Homozygous
• Quarter Horses
• Reining Horses
• Barrel Horses
• English Performance/Sport


• Testimonials

• Trailers for sale

---

STALLIONS


•

At Stud


---

SOLD




•

Sales List


---

MAP




•

Directions


---

EMAIL




•

Robbie@texaspaints.com


---


HOME

=
Riding Horse


AQHA DUAL PEP BRED STALLION




A uniquely bred Dual Pep Stallion out of a half sister to High Brow Cats mother "Meradas Kitty", probably the best bred Freckles Merada daughter there is. This stallion is trained, competitive of open caliper and novice class eligible. Very limited showing due to other commitments outside the horse industry maybe six times, three at the Futurity, weekend LA placed in 2008. This horse was easy to train, his full sister was easy to train and the first foal out of that mare was easy to train. Ready to show or use as a stallion. He is fit and I work him on a regular basis. Has never been bred. No lameness issues and has never had any joint injected. Will consider serious offers.


APHA DOUBLE HOMOZYGOUS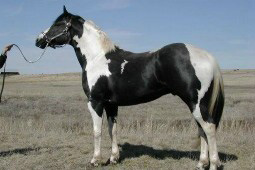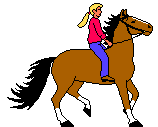 Tru Tru Color is a 1999 Double Homozygous Blk/Wht Tobiano Stallion. He has an amazing disposition which he passes on to his foals as well as exceptional conformation. He has sired several foals, including Tru Glitz N Glamour and Tru Rhet White & Blue, who were World Champion and Reserve World Champion halter yearlings. Sired by Painted Tru Tru he has an impressive pedigree which would make him an asset to any breeding program.
Priced at $4000 will consider serious offers.

AQHA GRAY STALLION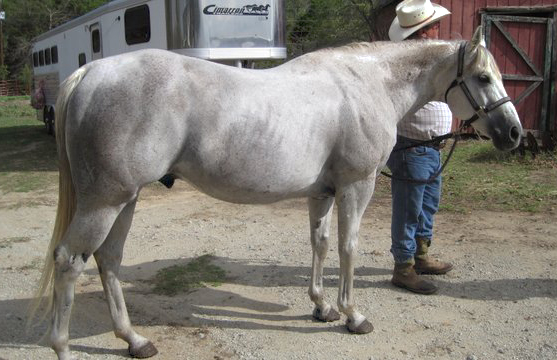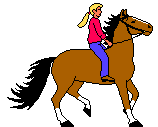 1997 AQHA Gray Stallion
He is a 1997 riding model and probably the closest thing to Three Bars Alive today. His sire, Sport Bar's was an OWN SON of the famous THREE BARS. That means every baby he has will have Three Bars right on the papers. To make him even more attractive to those trying to raise barrel and running horses his dam Miss Shawne Rocket, had a 101 Speed Index and is an own daughter of SHAWNE BUG. BLUE is sound and ready to breed this coming season. I truly feel he is the chance of a lifetime. Check back on Literally EVERY horse paper that amount to anything and Three Bars is there!!!!! a steal at $6500 For a view of his papers,
click here.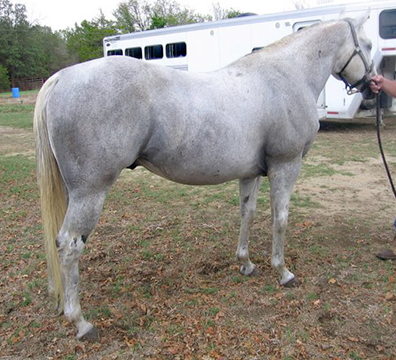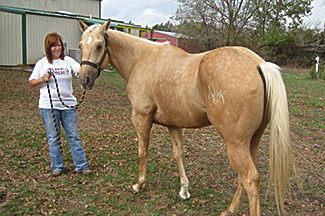 Picture of palomino is one of Blue's sons.
MUCHO DENIRO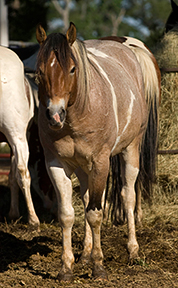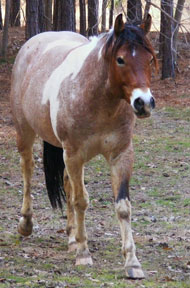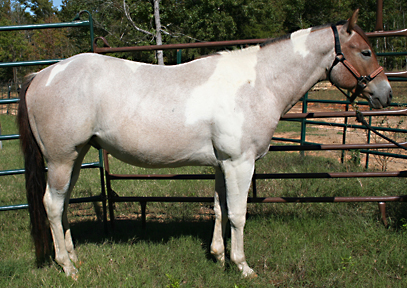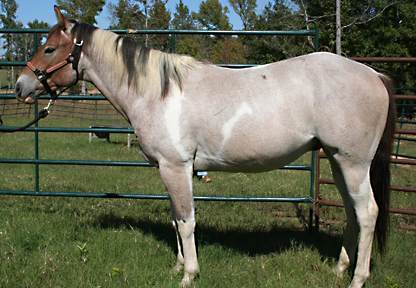 2007 APHA Bay Roan Tobiano Stallion
Chicos Mucho Deniro has it all; one of a kind color, world champion pedigree, excellent conformation and temperament. "Deniro" is enrolled in the breeders trust program. He is bred to work a cow, cut, and do ranch versatility as well as team roping. His sire is a 6x APHA/PtHA world and reserve wrold champion and a world reserve and champion producer with 4 superiors and 5 ROM's with over 148 performance points. His dam is cutting horse bred with race horse speed and includes such greats in her pedigrees as Peppy San Badger, Peppys Cat Balou, Special Shiek and Special Limit. Deniro has a striking color and tobiano pattern, good conformation, built to rein or work a cow. Good natured, easy to lead, load stands for farrier. Ready to be your next performance horse and/or breeding stallion. Approximately 15 hands and 1250 lbs. Price $5000
CHICOS SKIPA VERSARY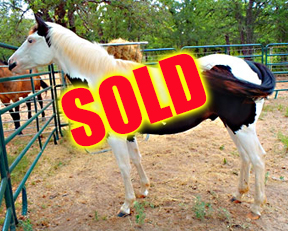 201

1

APHA Black and White Tob/O

vero

Colt
Summerchicobandito x CG Skipa Verse
Own son of Summers Chico Bandito, APHA's 2005 and 2008 Champion Senior Steer Stopper, 2009 APHA World champion heading and 2009 APHA Horse of the year. This colt is homozygous for the black gene and gentle to handle. Ground work is completed..stands still for farrier. This boy is ready to go to work. $4500 SOLD


QUEST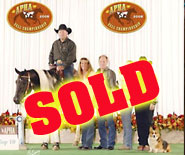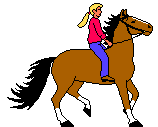 2005 - APHA - DOUBLE HOMOZYGOUS
A 2005 Stallion for the times. BREEDERS TRUST nominated on his papers. Parentage Verified. We have decided we are now no longer standing stallions because of our age. Quest is a double black homozygous stallion that has proven himself with several beautiful black and white and one buckskin and white babies on the ground this past spring. Each one is beautiful with his small head and striking conformation. SOLD - to Andrea Cappellari of Italy!

TRUINVESTMENT N QUEST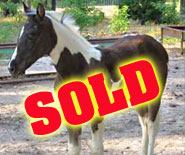 2011 APHA Black and white Double Homozygous
Born April 13 he is one pretty baby. Straight and correct from the day he was born. His sire has points in a short reining career and his grand sire Shots Midnight Comet is a World Champion and much more. His dam is an OWN Sister to Sonnys Amigo Bar. A stallion that has produced progeny that do it all. One of the most famous paint stallions on this planet. $4000 SOLD to Cathy Schmidt. Thanks neighbor. Your first horse but if you can do with him what you do with your famous collies we may be seeing him in the movies.
AMIGOS LEGACY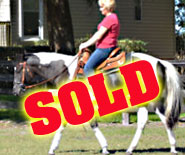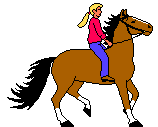 WOW! An own son of the famous Sonnys Amigo Bar! Out of a daughter of Tru Bruiser. Double homozygous to boot. This colts full sister was Reserve World Champion Amateur Lounge Line and is now proceeding with her show career under saddle. Opportunities don't come up often for a colt of this caliber. $15,000

SOLD - going to Carlos in Panama with our gorgeous palomino homozygous filly by Golden. Thank you and good luck with your Paint vener in Panama. Such lovely, people. Know the best of horses also.



Buck and Robbie Hesskew
903.829.5204
241 VZCR 1209
Canton, TX USA 75103
FOR SALE:
STALLIONS | MARES | GELDINGS | QUARTER HORSES | HOMOZYGOUS | REINING/CUTTING HORSES | BARREL HORSES | TRAILERS


STALLIONS AT STUD | SOLD HORSES | MAP | EMAIL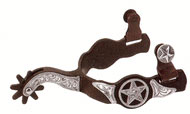 2004©Hesskew Copyrighted by law absolutely no pilfing of any material.

This site created and maintained by:
G I D D Y A P G R A P H I C S